Training Center & Technical Services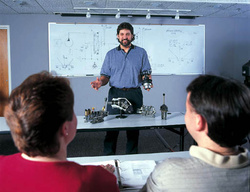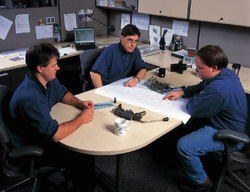 Adding Value with Our Courses
Kriha Fluid Power has been offering educational classes in the region for several decades. Our training approach involves lecture, text reference material & class participation.
The classes can help you become better designers, specifiers, and/or maintenance technicians for motion and control equipment. You will be able to improve your skill sets relating to the courses taken.
The participant will take knowledge back to the workplace and be better able to understand equipment, needs, and troubleshooting.
Machine operation and production time can improve. Downtimes can be reduced. Being better-trained is valuable to succeed in today's competitive marketplace.
The most popular courses are:
Fluid Power Basics
Industrial Hydraulic Technology
Hydraulic Maintenance Technology
Industrial Pneumatic Technology
Mobile Hydraulic Technology
Classes are 'Hands-On', Lecture, & Class Participation. They are geared to ANY
product manufacturer (not necessarily PARKER).
Course includes textbook, Fluid Power data book, quizzes, final test, & Course Certificate.
Classes are typically 4-day courses, one day a week for 4 weeks
They can be on-your-site if enough participants
You can FIND OUT MORE by communications at the "Contact Us" tab.
We can offer ENGINEERING DESIGN, CONSULTING SERVICE, EQUIPMENT UPGRADE, SYSTEM SUPPORT
The engineering staff at KRIHA FLUID POWER has decades of experience with systems design, troubleshooting, providing engineering support, & on-site start-ups. We
handle every request with responsibility & care to achieve the outcome of a satisfied customer.